Our Story
My husband Steve and I have been Basenji owners close to 30 years. It all started with the purchase of a store bought Basenji we named Kenya in 1988. We had just moved into a new home and wanted a dog that wasn't too big. After reviewing the AKC book of dogs, we had narrowed it down to possibly a Beagle. Well the Basenji was right in front of the Beagle and it looked like the right size and was very interesting.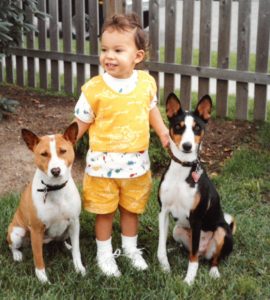 Since we had gone on our honeymoon to Kenya Africa and had a great love of our Safari travels, the Basenji seemed very appealing to us.
We had checked with our local vet for the name of a breeder and were given the name of Susan Cole or at least we thought he said "Cole." This was of course before the internet was readily available. Therefore, I looked in the paper and found a puppy store in Fairfield NJ, that had a Basenji. No matter how many times my husband said we were just going to look, I knew that it was fate that we would come home with our first Basenji, a red & white female.
After becoming Basenji owners we found out that it was Susan "Coe" that the vet had recommended and therefore, a year late purchased Akuaba's Dynasty, " Masai", an elegant Tri male.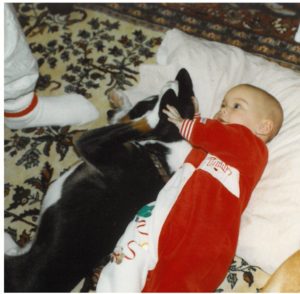 As time went on we decided we needed another one. Susan didn't have anything available at this time and that's how we met Kim Byrd, from KISA Kennel. We purchased Kisa Jigsaw," Kiara", a red & white, from Kim. By this time we had two daughters who loved the lion king and then started the naming of  future basenjis with lion king "call names".
After Kenya passed, we purchased my first brindle, Kisa Secret Service "Kovu"  from Kim. I then got involved with Basenji Rescue and Transport and we ended up taking in another Tri we named Pumba. The fourth to our pack at the time was also a rescue named Zaire.
The show bug took hold when we had only Kiara remaining.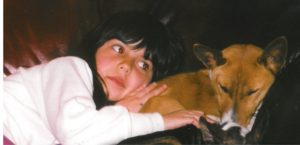 She was used to being in a pack and become very lonely and started escaping from the yard. We needed a friend for her so of course we called Kim. At the time Kim did not have any puppies, but had a Grand Champion male she was looking to find a home for. With the condition that Kim could use him for a stud dog
we came to an agreement. "My Handsome Man" Sir, started our breeding program with his daughter Kholiwe.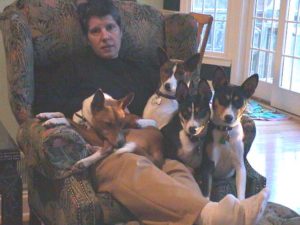 I wanted to start showing, and always wanted a Brindle female, so we bred Sir to Isabella and that how we came to have our "Kholiwe".
After receiving her Champion we bred her to Kim's "Valentino" also a champion to produce our first litter. We continue breeding with Kim Byrd who is a professional handler.  All of our dogs have always been pets first and we will continue the KISA tradition of temperament comes first and foremost.